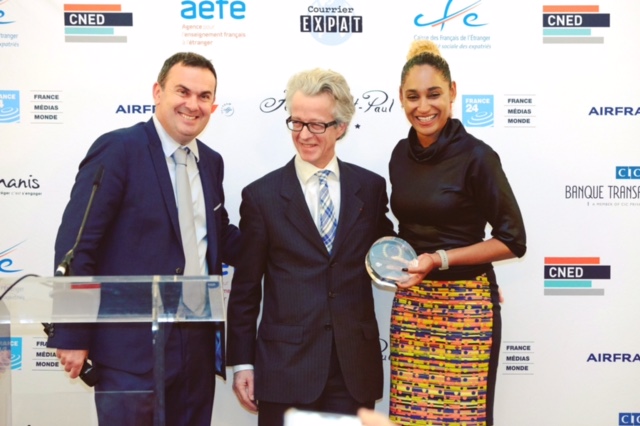 Guest article: Ingrid Jean- Baptiste
When I first approached my mother about starting a festival, I had no idea what Chelsea Film would grow into. I couldn't possibly know how much I would come to love it, and I certainly had no idea how much capacity it would have to inspire and benefit others. Through my role as founder and CEO of CFF, I have the opportunity to connect with young emerging filmmakers from around the world and provide a platform for them that celebrates their work and encourages future endeavors.
The tables were turned last month when I was awarded the Audience Award Winner by Banque Transatlantique. This high recognition was given to me by the Ministry of Foreign Affairs in Paris. After so much time dedicated to awarding others, it was incredibly humbling to be on the other side of that experience, and for a moment, I felt as though nothing I could say would truly speak to the amount of gratitude and honor I felt in that moment of recognition.
But there is something I would like to say now — thank you. Thank you to the Ministry of Foreign Affairs for hosting me. Thank you to the city of Paris for being such an inspiring place to receive this award. Thank you to Banque Transatlantique for picking me.
Most of all, thank you to every filmmaker out there who takes a chance by wanting to be a part of CFF. Your continued drive to make the world a better place is inspiring to me every single day, and without it, I would never have been able to accomplish my own goals.
When something as meaningful as this happens in our lives, simply saying 'thank you' can feel like such a small act in comparison. But in this moment, there is nothing I would rather do than sincerely express my gratitude to all who have allowed me to get this far and who make me want to keep pushing further every day.
Because my win is not just for me, but it is for all of you as well. Being the first woman of color to win this award means that I am able to show the next generation of emerging filmmakers that it is possible to break through boundaries that have been in place to limit our successes. I hope that if anyone out there, no matter if they are pursuing filmmaking, acting or some other passion, has been doubting their ability to succeed, let my win show you that anything is possible when you are willing to work hard. This win is for you too.
Much of the film industry has been under scrutiny lately for failing to progress with modern times. From #OscarsSoWhite to the persistent gender wage gap that exists across much of Hollywood, this scrutiny comes at a necessary time. But that challenge need not be a deterrent to those passionate about the industry from entering the field. The call for change is a good thing, and the passion of women and people of color driving to succeed both in-front-of and behind the camera is helping open the doors to the next generation of passionate filmmakers.
Let us all be inspired by the dedication of those around us. And if, for today, my win is able to inspire you, then thank you for letting me be a part of that process.
Together, every day, we are making the world a better place.
Note: Chelsea film festival is now open to submissions.